Challenge Week 1 | MOVEMENT
Week 1: 4/18-4/24—MOVEMENT
Week 1 Prize: Exercise Dice - Winner is Krystal Crance!
Points earned for planning exercise, executing exercise, stretching, water and sleep. See the full list on the tracking sheet here.
CONSISTENCY IS KEY! Exercising regularly has been shown to have so many benefits, both physically AND mentally. It has also been shown to help you live longer. Exercise is defined as any movement that makes your muscles work and requires your body to burn calories. So how much do you need and what are some of the specific benefits?
Exercise can make you feel happier! Exercise is the most underutilized antidepressant. It can increase brain sensitivity to the hormones serotonin and norepinephrine, which relieve feelings of depression AND can increase endorphins, which are known to help produce positive feelings.
Exercise is good for your muscles and bones and can reduce chronic pain.
"We don't stop moving because we grow old, we grow old because we stop moving." As people age, natural loss of muscle mass, function and chronic pain can occur due to inactivity. Building strong bones and muscle through weight bearing activity is vital for maintaining daily functioning. In addition, consistent exercise can help reduce chronic pain and improve quality of life.
Exercise can INCREASE energy levels.
The heart and lung benefits of consistent exercise significantly improves energy levels. Additionally, exercise has been shown to increase energy levels in people with various medical conditions. With regular exercise, your body becomes more efficient, requiring less energy to perform daily tasks over time.
Exercise can REDUCE your risk of chronic disease and improve brain health & memory
Lack of regular physical activity is the primary cause of chronic disease. The ability of exercise to prevent chronic disease can also translate into benefits for your brain, since its function can be affected by many of these conditions. Specifically 1) Type 2 Diabetes, 2) Heart Disease, 3) Many types of Cancer, 4) High Cholesterol, and 5) Hypertension.
Exercise can help relaxation and sleep quality
The exertion of exercise has led to better sleep quality and reduced sleep latency, which is the amount of time it takes to fall asleep. It has also led to improvements in sleep for people with chronic insomnia. In addition, older adults who are often affected by sleep disorders, have really seemed to benefit from regular exercise.
Recommendation: 150 minutes of moderate intensity or 75 minutes of vigorous activity spread throughout the week.
PRO TIPS from this week's PRO - Natalie Knutson
Planning Exercise for Tomorrow: I rely on my group fitness classes to hold me accountable. I both teach and attend. On the weekends, I identify my commitments and then determine what I'm able to fit in and plan accordingly.
10 Min of Stretching: This is typically done after a workout, but I also get on the floor most evenings with my kids and we stretch.
Water Intake: Every day starts with a large glass of water. Whether I'm home, on the road, vacation, etc… That glass of water or bottle of water is essential. From there I am typically accompanied by a water bottle everywhere I go.
30 minutes of exercise: Again, I rely on my group fitness classes. Days when I'm on my own, I know I have more energy and feel better about myself when I make a point to get the exercise in. I enjoy a walk or run or just an all out dance party with the kids!
At least 7 hours of sleep: This has been my most challenging. With two young children, and a need for sleep, I try to be in bed between 9 and 10 every night and wake between 5 and 630 every day. Mind you, it's a rare occasion that I have an uninterrupted night of sleep 😊 Sleep is vital to all the other components of my health and overall functioning.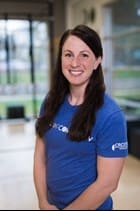 Meet the Pro: Natalie Knutson
Natalie Knutson is the Director of Wellness at Lake Region Healthcare. She is a Certified Personal Trainer and Special Populations Specialist, CrossFit Level 1 Coach, Certified Well-Being Coach as well as many other certifications. Her ultimate goal in life is to inspire individuals to be their best and to promote a healthy lifestyle of exercise, nutrition and a calm mind.