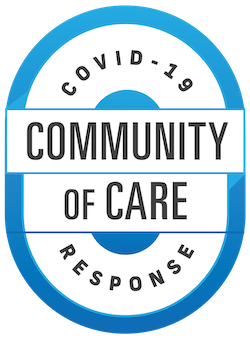 All visitors will have their temperatures taken and screened to rule out signs or symptoms of COVID-19. If potential visitor(s) shows signs and or symptoms and/or are in quarantine due to exposure, they will not be allowed to enter. All visitors to any location must wear a cloth face covering or surgical face mask at all times. If visitors do not have a face mask, one will be provided.
Hospital Setting Restrictions (including inpatient & surgical/procedural settings)
Each patient may haveup to 2 designated family/friend per day, only one of whom can be in the building at a time. A clear log will be kept to reflect the 2 designated visitors.

Waiting in lobbies or cafés is not permitted.

Patients Positive with COVID are allowed no family/friend visitors. A consistent plan to communicate with key or designated family member 2 times/day will be developed for these patients.
For the visitor of a surgical patient, the visitor will be allowed in prior to surgery and to make plans to return post-surgery. In some situations, if the patient room is available, the visitor may be able to wait in the patient's room.

Visitors may leave for a meal but should not come and go more than once during a visit period to reduce exposures. Visitors may be asked to step out of the room during an exam.

Our Behavioral Health unit will allow one visitor at a time during the patient's stay.

Visiting clergy are allowed as one of the patient's visitors

during their stay.

Emergency Department, Walk in Clinic and Respiratory Clinic Restrictions
One designated visitor during the duration of the visit. The designated visitor should stay in the exam room and not come and go to reduce exposures.

No visitors for COVID + or suspected COVID patients.

Clinic and Ambulatory Setting (includes same-day surgery, OP IR, Radiology, Laboratory, Therapies)
Outpatient clinical settings (all locations) will permit one

family/friend member who is needed to be actually in the clinic visit with their loved one. Others will be asked to wait in their cars.

For Child visits: Up to 2 parents or guardians are permitted to go with the child into the clinic visit.

Lab or Imaging visits: No one is to accompany the patient unless they are a minor or child, then one parent or guardian may accompany.

Therapies: No one is to accompany the patient unless they are a minor or child, then one parent or guardian may accompany.

Same Day Surgery Adults: one family/friend member is allowed. If they are unable to wait in same room, they may be asked to wait in car.

Same Day Surgery Child: Up to two parents or guardians are allowed, but if unable to wait in same room, may be asked to wait in car.

No visitors allowed in Cardiac Rehab and Pulmonary Rehab due to the small congregate area.

Mill Street Residence

Mill Street continues to be closed to general visitation. This restriction will remain in place until the MN Department of Health provides guidance that this restriction has been changed or lifted for senior care settings.

While our building may be closed to general visitation, we have established an Essential Caregiver program which is an individual who was previously actively engaged with the tenant or is committed to providing psychosocial health support and/or assistance with their activities of daily living. Each tenant may designate one person as their Essential Caregiver. Prior to their first visit, Essential Caregivers are required to provide evidence/documentation of a recent, negative COVID test. Essential Caregivers are required to pre-schedule their visits with 24-hour advance notice preferred. Essential Caregivers are allowed to visit for a maximum of three hours each day.

In addition, Mill Street staff have been assisting tenants and their family members with a couple options for face-to-face communication.

(1) Window visits are allowed with some restrictions. Both the tenant and family member must wear a facemask. The window may be opened to make it easier to hear though a window screen must be in place to discourage touching. The tenant and family member must maintain a 6-foot distance between themselves at all times.

(2) Family members can arrange for virtual visits through the use of technology (i.e. Facetime, Zoom). Scheduled appointments for either of these two options are preferred/required. Family members can schedule an appointment by contacting the Mill Street front desk (218-739-2900).

Cancer Center

Visitors are generally not allowed, unless by special request. Patient requests will be evaluated by CCRC Clinical Leaders.

Visitor Exceptions
Compassionate exceptions are an option during special circumstances including the following:

End-of-life or sudden decline in medical condition/stability

Childbirth—one visitor + doula/coach

Case by case exceptions based on situation and in consultation with clinical team, Department Director, Manager and/or House Supervisor.

Face Covering Clarifications
Face coverings are not recommended for those under 2 years of age, but are required for everyone six years and older.

Acceptable types of face coverings can include a paper or disposable mask, a cloth mask, a neck gaiter, a scarf, a bandanna, or a religious face covering. The face covering must cover the nose and mouth completely. The covering should not be overly tight or restrictive and should feel comfortable to wear.

Any mask that incorporates a valve that is designed to facilitate easy exhaling, mesh masks, or masks with openings, holes, visible gaps in the design or material, or vents are not sufficient face coverings because they allow droplets to be released from the mask. An LRH-provided disposable mask may be worn OVER the visitor/patient valve mask in this instance.
We continue to encourage other forms of communication with patients and their families and/or support people including Facetime and telephone calls, to help enhance communication, be informed of care taking instructions, and be an important part of the healing process.