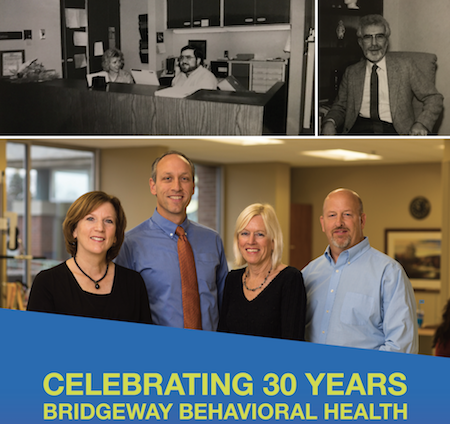 Since opening its doors 30 years ago, Bridgeway Behavioral Health has brought hope and healing to 7,563 adults, adolescents and seniors in the region by offering professional, holistic, customized care to those struggling with mental-health issues.
And all because, many years earlier, an officer told a young flight surgeon that he wasn't a real psychiatrist.
That young doctor was Robert Wasson, a Battle Lake, Minn., native who was then in the Navy. He had been trained in Aerospace Medicine for duty as senior medical officer on an aircraft carrier and was expected to complete rotations in several different areas of medicine – including psychiatry. While stationed with the Marine Corps in Japan, one of Wasson's responsibilities was to assess problem Marines in the service and determine whether they were "bad actors" who should be discharged administratively or sent elsewhere for psychiatric treatment.
Wasson made a recommendation for one young man, prompting the Marine's superior to say: "You're not a real psychiatrist, so you can't say that."
The serviceman was referred to a psychiatrist, who concurred with Wasson. And from that point forward, Wasson decided he could do more good practicing psychiatry than aviation medicine. His next assignment was Philadelphia, where he completed training to become a board-certified psychiatrist.
Wasson's military career would include stints in Spain, numerous other US states and on the USS Hornet, the rescue ship for the Apollo 11 and 12 moon-walking crews. He moved his family to the Great Lakes, where he served until retiring from the Navy in 1982. He remained in the area to help develop a psychiatric practice with three other physicians.
He brought that practice-model with him when he moved to Fergus Falls in 1988 to work alongside his brother Rud, an obstetrician, at the Fergus Falls Medical Group and to live near the family farm. Shortly after his arrival in Fergus, Wasson also helped launch the psychiatric unit at Lake Region Hospital.
This small unit, modeled after his Great Lakes practice, became Bridgeway. The facility filled an immediate need for the area, in that it provided help for voluntary patients who required inpatient mental-health care but did not have severe-enough issues to warrant admittance to the Regional Treatment Center or referral to the former St. Luke's Hospital (now Sanford) in Fargo.
Under Wasson's watchful eye, Bridgeway grew and thrived. Wasson still marvels over how smoothly the facility ran – and still runs today – thanks largely to an experienced, well-trained staff. He quips that he was only called into the emergency room three times during his tenure to take care of emergencies: Once to visit a friend who was in the ER, once to help a patient who was in severe stress, and once because he broke his own collarbone.
"One of the reasons I lasted so long was that, when one of the nurses would call with an issue, they wouldn't say, 'Help, I've got a problem!' They would stay calm and say, 'We've got a problem and I think this is what we should do.' They always had a solution. It was so routine, I could always get back to sleep and know that it was under control."
Wasson was the sole psychiatrist at Bridgeway until 1997, when he was joined by Dr. Dan Traiser, a young North Dakota-born doctor who had just completed his residency at the University of Wisconsin-Madison. A year later, the team was joined by another psychiatrist, Dr. Augdahl. Over time, the facility expanded from eight beds with a daily census of two to three patients to a 16-bed unit relocated to a new site in the hospital. Initially, the vast majority of patients came from within a 60-mile radius of Fergus Falls, but over the years, it has grown to serve patients from as far away as Wisconsin and Iowa.
The majority of patients, however, are from Minnesota and eastern North Dakota, says Dr. Traiser, the current Medical Director of Bridgeway and the longest-serving doctor there since Wasson retired in 2002. They range from teen-agers to senior citizens, and are typically battling depression, anxiety or another mental-health concern.
"By only accepting patients who are asking for treatment, we can offer a friendly and comforting environment, free from aggressive patients who may not be interested in treatment. I'm very proud of the fact that we have built an excellent reputation throughout the state. It is rewarding to treat individuals who really want to get better and are appreciative of the care they receive," Traiser says.
The unit now has four board-certified psychiatrists on staff, as well as a team of nursing staff, social workers, chaplains, an activities coordinator, occupational and physical therapy staff, pharmacists, dietitians and all the other experts crucial to a well-rounded care team.
"They are all well-trained, empathetic and skilled in delivering compassionate care to patients who are often scared and overwhelmed with difficult illnesses," Traiser says. "All of us find great joy in watching patients improve and leave our unit armed with new skills and hope."
Both doctors say many things have changed in mental-health treatment since they first started practicing. Wasson witnessed the shift from psychoanalysis to community psychiatry and psychopharmacology, as well as the move from large state hospitals to smaller Community Behavioral Health Hospitals.
Medications have improved, and the stigma around mental-health issues is fading – especially among younger generations, Traiser says.
"Younger patients have an understanding that the brain is incredibly complex and can become diseased, just like your heart or lungs," he says. "People are becoming less frightened of psychiatric medications and realizing that they can be an important tool in recovery, along with therapy, exercise, sleep and a healthy diet."
Even so, there's more work to do. Traiser says he wishes more people realize that mental health disorders are incredibly common, with 20 percent of the population suffering from some form of mental disease in any given year. The good news is that these disorders are highly treatable.
He is also concerned about the escalation of suicide among teen-agers and senior citizens, and reminds people that asking someone if they have suicidal thoughts will NOT increase their risk of acting on the thoughts. "It could very well save a life," he says.
Despite these challenges, Traiser feels very optimistic about the future of mental-health treatment. "There will be incredible strides over the next 30 years as we learn about the intricacies of the brain," he says. "I know Bridgeway will be at the forefront of mental health care and continue to offer cutting-edge treatment."