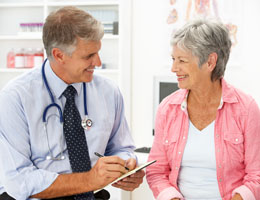 Dec. 4, 2017—Women may be at a higher risk for heart attack or stroke in the first year after stopping hormone therapy for menopause, a new study found. That's something to consider if you're thinking of starting or stopping hormone therapy.
These hormones can help ease the bothersome side effects of menopause, when estrogen levels fall. And women who take estrogen have improved blood vessel function and heart health.
But what happens to these heart-health benefits when women stop hormone therapy?
Previous research showed that the risk for heart disease and stroke temporarily spikes. However, the older study included women with pre-existing heart problems, so experts didn't know if those findings also applied to healthy women.
This new study aimed to answer that question.
Estrogen and heart health
Researchers looked at data for more than 400,000 women who had stopped taking hormone therapy between 1994 and 2013, tracking how many had a heart attack or stroke. None of the women in the study experienced a heart attack, another serious heart problem or a stroke within the year before stopping hormone therapy.
The researchers found that stopping hormone therapy was tied to a higher risk of dying from a heart attack or stroke in the first year after treatment ended. The risk was greatest for women who stopped hormone therapy before age 60.
This study doesn't prove that stopping hormone therapy caused the women's heart attacks or strokes. But stopping it does cause estrogen levels to fall quickly.
And studies show that this can lead to harmful changes in blood vessels, which can increase the chance for health problems. Stopping hormone therapy can also cause the recurrence of hot flashes, which can have dangerous effects on heart rhythm.
Further research is needed to learn more about how stopping hormone therapy affects the heart.
The recent study was published in the journal Menopause.
Is hormone therapy right for you?
Hormone therapy can be a valuable treatment for many women going through menopause. But there are pros and cons to consider.
If you're considering hormone therapy, talk with your doctor about the risks and benefits of the treatment. To learn more, you can read this article: Hormone therapy 101.