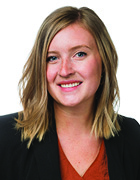 By Ellyn Hexum, PA – Primary Care
Have you noticed more breakouts since you started wearing your face mask?
You're not alone. An increase in acne breakouts on the face as a result of increased mask wearing to prevent the spread of Covid-19 has been coined "maskne" – mask + acne. While "maskne" can be bothersome, mask wearing is a new and very important step in preventing the spread of Covid-19, so it will be important to find ways to manage & minimize these breakouts to keep your skin healthy & clear.
What Causes Maskne?
There are several contributing factors to these breakouts and not all are directly related to the mask itself including:
Rubbing of the mask on the face causing irritation
Increased "stress" hormones as a result of stressors of the Covid-19 pandemic
Increased facial sweating and/or touching when taking masks on and off regularly
7 Steps to Clear Up & Prevent Breakouts
There are several steps that you can take to heal current breakouts and decrease the likelihood of frequent breakouts in the future. Here's what I recommend:
1. Wash your face daily with an antibacterial cleanser
Most over the counter acne cleansers contain antimicrobial ingredients such as benzoyl peroxide or zinc.
Avoid cleansers with "grit" or rough beads as these can cause more acne breakouts.
Consider not only washing your face in the AM or PM, but also washing your face after you are home and have removed your mask for the day.
2. Apply a topical retinoid at night
A good over the counter option is Adapalene Gel (brand name, Differin Gel).
Adding a salicylic acid cleanser or spot treatment can also be helpful.
Apply topical retinoids at night and wear sunscreen when using these products as they can make your skin more sun sensitive.
3. Moisturize regularly with a non-comedogenic moisturizer after each facial cleansing
Look for moisturizers that say "non-comedogenic" on the label. This means that they are less likely to clog your pores.
Topical creams containing alpha hydroxy acids (AHA) like glycolic acid and lactic acid can help with exfoliation and can cut down on the formation of new acne production and can help heal current breakouts.
Guys: if facial hair is a challenge for your mask, try applying toner or witch hazel to freshen your skin and prevent problems due to beards and mustaches.
4. Avoid wearing makeup under your mask when able
If you would prefer to continue to wear makeup under your mask, opt for a powder option or a foundation that says "non-comedogenic" on the label.
5. Avoid touching your face
Touching your face adds extra oil and dirt to your skin.
Wash your hands regularly for at last 20 seconds with soap and water prior to touching your face/applying lotion or makeup.
6. Avoid moving your mask
Although it can be difficult, leave your mask in place and avoid moving your mask around too much. Frequent mask movement can cause miniature mechanical traumas to your pores and can increase acne breakouts.
Find a mask that fits your face well without needing frequent readjustments.
7. Wash your mask regularly
You may find that your face is more sensitive to the soaps and detergents that you use for your other clothes.
Even some essential oils can cause irritation to the skin with prolonged exposure.
Wash your mask with a fragrance and dye free soap and avoid drying with dryer sheets. Not only does washing masks make them more tolerable and better for your skin, this process is also important for infection control.
If you have breakouts that won't heal despite home treatment or rashes that spread, worsen or show signs of infection, you should seek medical care. But in general, taking some extra time to take care of the skin your mask covers will keep it happy & healthy. And in the end, wearing your mask and doing your part to curb the spread of COVID-19 is what counts.