Rock Steady Boxing
Empowering People with Parkinson's Disease to FIGHT BACK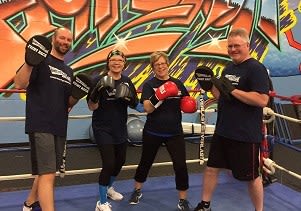 Our Rock Steady Boxing program at the Health & Wellness Hub is a non-contact boxing inspired class designed to reverse, reduce, and even delay the symptoms of Parkinson's Disease.
Participants can enhance their quality of life and even build strength, flexibility and speed. By exercising with coaches who know the ropes, you can fight your way out of the corner and start to feel and function better. Rock Steady Boxing classes have proven that anyone, at any level of Parkinson's can actually lessen their symptoms and lead a healthier and happier life.
Schedules & Pricing
Monday & Wednesday from 1-2:30pm
Friday: Stretching Class 9:30-10:30am
10-punch card, 1-month unlimited and 3-month unlimited payments options are available.