Week 3 | March 8 - 14
Week 1 = 6,662 miles
Week 2 = 6,136 miles
14 National Parks Visited So Far! Parks Visited This Week Include: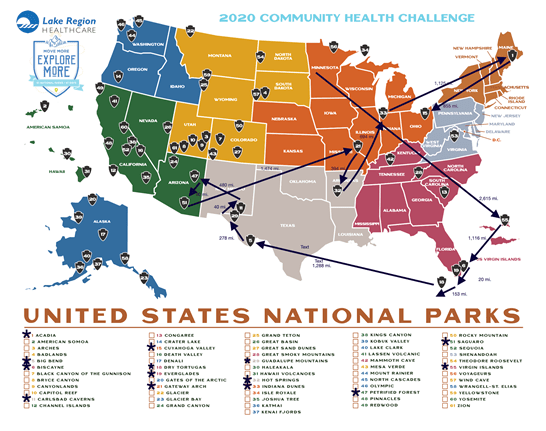 Week 3 | March 8 - 14 - This Week's Newsletter Update Can be Found Here
This week we will be focusing on Intellectual Health and we are excited to partner with the Fergus Falls 50th Anniversary Earth Celebration "Fergus Reads" book discussion.
We are extremely interested in the book choice, as it discusses all aspects of community health, which is somewhat captured in this description from Amazon:
For many of us, thinking about the future conjures up images of Cormac McCarthy's The Road: a post-apocalyptic dystopia stripped of nature. Richard Louv, author of the landmark bestseller Last Child in the Woods, urges us to change our vision of the future, suggesting that if we reconceive environmentalism and sustainability, they will evolve into a larger movement that will touch every part of society. This New Nature Movement taps into the restorative powers of the natural world to boost mental acuity and creativity; promote health and wellness; build smarter and more sustainable businesses, communities, and economies; and ultimately strengthen human bonds. Supported by groundbreaking research, anecdotal evidence, and compelling personal stories, Louv offers renewed optimism while challenging us to rethink the way we live.
According to Cedar Walters, Otter Tail County Public Information & Education Officer, "The Nature Principle gives us a hopeful vision for future - not one stripped of nature, but one where nature is increasingly integrated into the places we live work and play. By increasing our exposure to nature we can decrease stress and cortisol, perform better at work, improve mental health and ADHD outcomes, and more. In a time when devices and technology are constantly demanding our attention we need nature now more than ever, and this book will give our community a sense of optimism and purpose, and a roadmap that will lead us toward increased personal and community health."
You can find copies of the book at the Fergus Falls Public Library and at Victor Lundeen Company. Check out the upcoming book discussion opportunities below also. Happy Reading!
Congrats to our Weekly Winner: Joe Devorak
Prize: National Parks Jenga Game!