A Christmas Gift: LRH & PRH Begin Staff COVID-19 Vaccinations This Week
Hospital news
|
Wednesday, December 23, 2020
(Fergus Falls, MN) — Staff members in the highest risk categories began receiving the first coronavirus vaccinations this week at Lake Region Healthcare (LRH) and Prairie Ridge Healthcare (PRH), joining health systems nationwide who are following the Center for Disease Control and Prevention's guidelines for a phased rollout of the vaccine.
CEO Kent Mattson called the vaccinations a gift in comments to those assembled for the first round of vaccinations at LRH. "It's kind of interesting that this vaccine comes out so close to Christmas. It's a pretty big gift that we will readily accept and it's pretty special." One of the first nurses to receive the vaccine at LRH, Tracy Evavold, said she's never looked forward to a shot in her life, but in this instance she is hopeful. "I want to protect myself from the virus and prevent spreading it to others. Hopefully this will be the first step toward some form of normalcy."
Distribution of the vaccine required an extensive amount of logistical planning and Mattson said the team has worked through several unique challenges to provide the vaccination – from management of the freezer required for ultra-cold storage to scheduling staff to administer and receive the doses within the strict temperature guidelines. "This is truly a momentous occasion and it's a monumental day in this fight that we've been fighting for a long time."
Mattson thanked those receiving the vaccine for stepping up right away and doing their part to set the example for their peers and for the community. "I'm excited to get my shot when it's my turn at the end of the line," he added.
The first shipments of vaccines received at LRH are reserved for direct caregivers at LRH, PRH and for the same category of healthcare workers at neighboring facilities using LRH as a distribution hub including Alomere Health, Glacial Ridge Health, Perham Health, Stevens Community Medical Center, Sanford Wheaton and CHI St. Francis. Those receiving vaccinations now will need to come back for the second dose in 21 days.
After healthcare workers and long-term care residents have been vaccinated from these initial doses, Mattson said the next phases of vaccine administration for the public will be announced in coordination with public health agencies and other health care providers across the region. "We don't have a solid timeframe yet, but we will communicate more as soon as we can. I know people are anxious for it."
About the Lake Region Healthcare Enterprise
The Lake Region Healthcare enterprise is comprised of Lake Region Healthcare, an independent community-governed non-profit headquartered in Fergus Falls, the Mill Street Residence Assisted Living Facility in Fergus Falls, and the non-profit critical access hospital, Prairie Ridge Hospital and Health Services headquartered in Elbow Lake. With over 100 medical staff and over 1,000 employees, we are dedicated to serving the healthcare needs of our communities with values of Excellence, Person-Centered, Collaboration, Stewardship, Integrity, Respect and Innovation. Together we bring specialty and sub-specialty services to patients at hospital locations in Fergus Falls and Elbow Lake and at clinics in Ashby, Barnesville, Battle Lake, Evansville, Herman, Hoffman, and Morris, MN. For more information visit: www.lrhc.org, www.prairiehealth.org or www.millstreet.lrhc.org
Attached Photos:
At Prairie Ridge Healthcare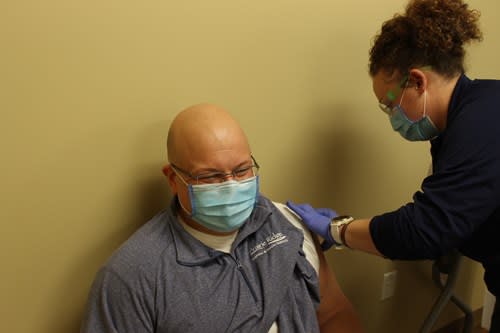 Alycia Athey, RN gives Dr. Dustin Sperr the first dose of his COVID-19 vaccine at Prairie Ridge Healthcare in Elbow Lake earlier this week.
Chrissy Osborne, RN and Stefany Nordby, PA from the PRH Elbow Lake clinic after receiving the first of two doses in the initial round of vaccinations this week.
At Lake Region Healthcare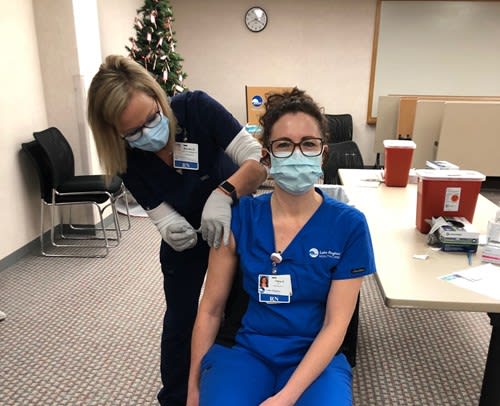 Tracy Evavold, RN in the Medical/Surgical unit at LRH was among the first nurses to receive the vaccine this week saying she wants to protect herself and her patients and that she's hopeful this is the first step toward some sort of normalcy.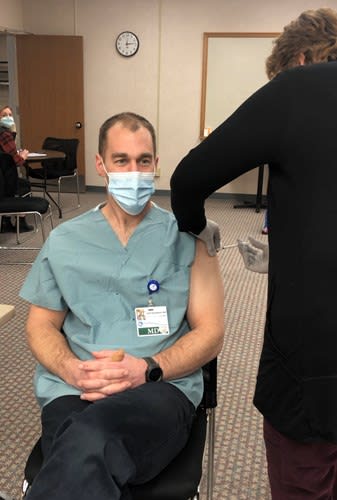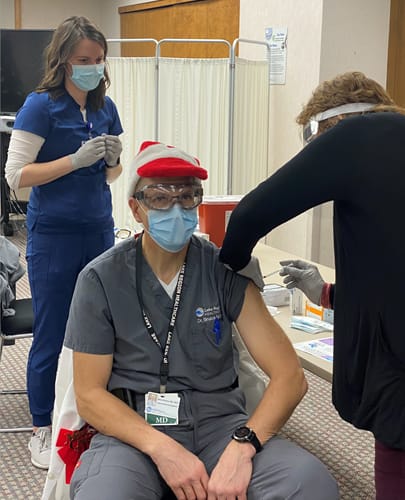 Dr. Josh Overgaard and Dr. Bruce Money were among the first physicians to receive the vaccination this week at LRH.