COVID Testing Demands Put Strain on Healthcare Resources
Community news
|
Monday, October 12, 2020
Growing need for testing highlights importance of following precautions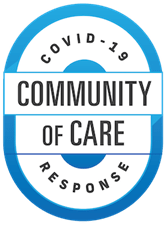 [Fergus Falls, MN and Elbow Lake, MN] In response to a steadily growing demand for COVID testing, Lake Region Healthcare and Prairie Ridge Healthcare (LRH and PRH) have extended their hours for drive through COVID-19 testing and increased the number of test swabbing appointments available, according to LRH Chief Nursing Officer, Roberta Young.
"The combination of school and workplace requirements for isolation, quarantine and testing related to COVID-19 symptoms and exposures and the recent uptick in community spread of the virus, combined with the common symptoms of allergy season and influenza season have converged to create a sustained strain on our medical and public health community resources none of us have experienced before," Young said. "Going into the seventh month of the COVID crisis, we are doing everything we can within our means to accommodate the testing needs of our community and to help guide people with what can be a confusing and frustrating process," she added.
A recent step LRH has taken is to expand the hours of operation at the Walk-In Clinic for appointments reserved for patients with respiratory symptoms. In addition, Young says they're working to free up schedules and create safe check-in processes so that children with respiratory symptoms can see their pediatrician rather than being directed to the respiratory clinic. "We know those relationships with your pediatrician or primary care provider are so important as they navigate with you the best way to treat symptoms of ear infections and colds that may be similar to symptoms COVID," Young said.
Staffing is proving to be another challenge according to Young. "We're stretching our staff as much as possible to accommodate the expansion of our testing access and respiratory clinic appointments as well as our efforts to immunize as many people as possible with flu shots. Just like everyone else, we're also experiencing our share of quarantine and isolation requirements related to school, community and workplace exposures which is complicating our staffing shortages," Young said.
If you have COVID symptoms or if you've been directed to be tested based on a possible exposure by your school, employer or public health, here are a few pointers:
Testing for COVID-19 is available at our Fergus Falls, Elbow Lake and Morris locations. Please call ahead to speak to a COVID Screening nurse (218.736.8000) and you'll be directed you to the best testing location.
It can take several days for test results to come back. While you are waiting for your test results, you should stay home and separate yourself from other people in your home as much as possible. Wash your hands often and clean frequently touched surfaces.
If you are tested in Fergus Falls, the fastest way to receive your test results is to have a patient portal account set up with the LRH FollowMyHealth app. You'll receive a notification through the app as soon as your results are in. You'll also receive a call from one of our nurses. If you are tested in Elbow Lake or Morris, you will notified by phone of your test result. Test results may be printed from the FollowMyHealth app if needed for documentation. If you need to request an official paper copy of your result you can contact the Release of Information department. It will take approximately five business for the results to be populated to your chart and then released.
If your test result is positive, you'll be contacted by a public health nurse and you will be asked to recall everyone you had close contact with during the time when you may have been infectious. For COVID-19, a close contact is anyone who was within 6 feet of an infected person for at least 15 minutes. An infected person can spread COVID-19 starting 48 hours (or 2 days) before the person has any symptoms or tests positive for COVID-19.
If, based on the interview, it is determined that high risk exposures have occurred, those involved will be notified on an individual basis and to protect privacy, the infected patient's identity is not discussed with contacts, even if asked.
Depending on your test results, exposure scenario, and/or symptoms you'll be instructed on whether and how long to quarantine or isolate.

Who should quarantine: People who have been in close contact with someone who has COVID-19—excluding people who have had COVID-19 within the past 3 months.
How long should they quarantine: For 14 days after last contact with a person who has COVID-19 since symptoms may appear 2 to 14 days after exposure to the virus.
Who should Isolate: People who have COVID-19 including people who have symptoms of COVID-19 and are able to recover at home and people who have no symptoms (are asymptomatic) but have tested positive for infection with SARS-CoV-2.
How long should they isolate: after at least 10 days since symptoms first appeared and at least 24 hours with no fever without fever-reducing medication and when other symptoms of COVID-19 are improving. (Loss of taste and smell may persist for weeks or months after recovery and need not delay the end of isolation).

A negative test result doesn't change the need or shorten the length for quarantine after a close contact exposure to someone with COVID.
"It can help reduce anxiety around getting in for a test and the wait for test results to understand that a negative test result often doesn't change anything related to immediate circumstances," Young said. For example, if you have symptoms and your test comes back negative, you still shouldn't be at work or at school until your symptoms are gone for at least 24 hours. If you're not experiencing symptoms and your test comes back negative after a high risk exposure, it doesn't change the fact that you need to quarantine for 14 days from the time of your last exposure to an infected individual. If the infected person is living in the same household as you are and you're unable to separate yourself from them, this means your 14 day quarantine starts after their 10 days of isolation is completed.
"We recognize that when COVID hits a person or family, it is real to you, and due to the volumes we deal with and all of the other health conditions we treat at this time of the year, we are not always able to give immediate test access, so we all have to extend some grace and patience, added LRH CEO Kent Mattson. "We just want everyone to know we're doing everything we can with the resources we have. We are deeply committed to being your trusted community resource not only for COVID, but for all things health care, and we hope communicating this information is helpful to building the person-centered partnership we seek to have with our patients and the communities we at LRH and PRH serve."
About the Lake Region Healthcare Enterprise
The Lake Region Healthcare enterprise is comprised of Lake Region Healthcare, an independent community-governed non-profit headquartered in Fergus Falls, the Mill Street Residence Assisted Living Facility in Fergus Falls, and the non-profit critical access hospital, Prairie Ridge Hospital and Health Services headquartered in Elbow Lake. With over 100 medical staff and over 1,000 employees, we are dedicated to serving the healthcare needs of our communities with values of Excellence, Person-Centered, Collaboration, Stewardship, Integrity, Respect and Innovation. Together we bring specialty and sub-specialty services to patients at hospital locations in Fergus Falls and Elbow Lake and at clinics in Ashby, Barnesville, Battle Lake, Evansville, Herman, Hoffman, and Morris, MN. For more information visit: www.lrhc.org, www.prairiehealth.org or www.millstreet.lrhc.org.