Lake Region Healthcare Moves Mattson from Interim to Permanent CEO Role
Corporate news
|
Friday, May 8, 2020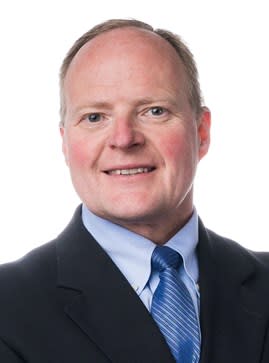 [Fergus Falls, MN] Kent Mattson is now the permanent Chief Executive Officer of the Lake Region Healthcare (LRH) enterprise after recent action by the organization's Board of Trustees. Mattson had been appointed interim CEO last December.
Mattson has over 20 years of institutional knowledge of the organization after serving as part time General Counsel for LRH since the late 1990s, and later joining full time to become the Chief Legal and Strategy officer for the enterprise in January, 2018.
"The Board was unanimously in favor of Kent's advancement to the permanent role and we are extremely pleased he has accepted the offer to provide his diverse background, leadership and experience to the organization in this new role long-term. The stability of Kent's leadership is imperative during this especially challenging and critical time in our history, as well as for continuing to lay the foundation for a successful future as a community-based organization.," said John Erickson, Chair of the Board of Trustees. Speaking on behalf of the Board, Erickson said Mattson "has demonstrated calm, stable and collaborative guidance to the organization, its people and our communities and has become a well-respected voice representing rural facilities to the larger healthcare industry."
Mattson's enterprise CEO role is the most senior leadership position and includes oversight of LRH and the full set of affiliated companies and services including the Mill Street Residence Assisted Living Facility and Prairie Ridge Hospital and Health Services, the critical access facility of LRH located in Elbow Lake and Morris. Together, LRH and PRHHS operations include two hospitals, a cancer care and research center, as well as primary and multi-specialty care clinics in nine rural communities.
"I am honored to lead this very dedicated and compassionate team of healthcare professionals. The excellent work our providers and entire staff do and the level of commitment we share for the betterment of our communities is a mission and a cause I am proud to help advance," Mattson said. "Maintaining access to quality, locally delivered healthcare for our rural areas in an independent community organization setting is critical in sustaining our communities, yet it is becoming more and more difficult. I look forward to continuing the CEO role on a permanent basis, working with our dedicated Board members, and partnering with internal and external stakeholders to preserve and grow our capacity to the next level and provide for the needs of the people we serve," he added.
Mattson is a Fergus Falls native and has a long history of pride in the organization dating back to the years his mother Kathy served as a nurse at Prairie Ridge and LRH, and eventually a long time manager at LRH. Along with his wife Nancy, he enjoys spending his spare time with his four children and granddaughter at the lake and exploring the outdoors.
About the Lake Region Healthcare Enterprise
The Lake Region Healthcare enterprise is comprised of Lake Region Healthcare, an independent community-governed non-profit headquartered in Fergus Falls, the Mill Street Residence Assisted Living Facility in Fergus Falls, and the non-profit critical access hospital, Prairie Ridge Hospital and Health Services headquartered in Elbow Lake. With over 85 medical staff and over 1,000employees, they are dedicated to serving the healthcare needs of our communities with values of Excellence, Person-Centered, Collaboration, Stewardship, Integrity, Respect and Innovation. Together they bring specialty and sub-specialty services to patients at hospital locations in Fergus Falls and Elbow Lake and at clinics in Ashby, Barnesville, Battle Lake, Evansville, Herman, Hoffman, and Morris, MN.
For more information visit:
# # #