Lake Region Healthcare Welcomes Dr. Desiree Holzer to Emergency Team
Community news
|
Wednesday, August 12, 2020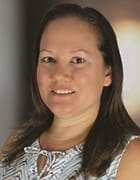 [Fergus Falls, MN] Lake Region Healthcare (LRH) announced today Dr. Desiree Holzer has joined the team of physicians and care providers in the Emergency Department.
Dr. Holzer received her Doctor of Medicine from the University of Minnesota Medical School in Minneapolis and also holds a Bachelor of Science in Psychology with a minor in Chemistry from the University of North Dakota in Grand Forks. She completed her Emergency Medicine Residency at University of Rochester – Strong Memorial Hospital in Rochester, NY.
Dr. Holzer is Certified in Emergency Ultrasound: Trauma, Biliary, Cardiac, Renal, Pelvic, and in Cardiac, Pediatric, Neonatal and Basic Life Support. She is a member of the American Academy of Emergency Physicians and the American College of Emergency Physicians.
She has worked for Central Minnesota Emergency Physicians in the St. Cloud Hospital Emergency Trauma Center and most recently for Essentia Health St. Joseph's Medical Center. When asked about choosing to join the team at LRH Holzer said being from the small town of Wheaton, LRH is the type of independent community healthcare provider she wants to be a part of. Holzer also said she and her husband both have ties to the area and family they are looking forward to living closer to with the move here.
Her personal interests include spending time with her husband and kids and doing anything outdoors including biking, fishing, camping, hiking, running, reading, and archery.
About the Lake Region Healthcare Enterprise
The Lake Region Healthcare enterprise is comprised of Lake Region Healthcare, an independent community-governed non-profit headquartered in Fergus Falls, the Mill Street Residence Assisted Living Facility in Fergus Falls, and the non-profit critical access hospital, Prairie Ridge Hospital and Health Services headquartered in Elbow Lake. With over 85 medical staff and over 1,000 employees, we are dedicated to serving the healthcare needs of our communities with values of Excellence, Person-Centered, Collaboration, Stewardship, Integrity, Respect and Innovation. Together we bring specialty and sub-specialty services to patients at hospital locations in Fergus Falls and Elbow Lake and at clinics in Ashby, Barnesville, Battle Lake, Evansville, Herman, Hoffman, and Morris, MN. For more information visit: www.lrhc.org, www.prairiehealth.org or www.millstreet.lrhc.org.