LRH and PRH Increase Visitor Restrictions Again in Light of COVID Increases
Hospital news
|
Tuesday, November 24, 2020
Increased Community Spread and Hospitalizations Spur Tighter Restrictions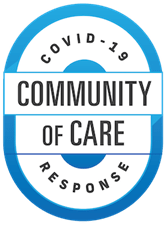 [Fergus Falls, MN and Elbow Lake, MN] Lake Region Healthcare and Prairie Ridge Healthcare today announced a return to tighter restrictions on the visitor policy in response to growing COVID-19 hospitalizations and a marked increase in community spread of the virus.
The revised visitor policy is effective November 25th, 2020 and aims to ensure the organizations are not overwhelmed with more patients than the facilities have resources and staff to manage. "We are confident in our ability to care for COVID patients," said CEO Kent Mattson in a letter to the community last week. "We have the medical knowledge, physician and nursing skills, and systems and processes to take care of COVID patients, help them recover and go home. But we cannot handle too much at one time," he said. Ensuring the hospitals in Fergus Falls and Elbow Lake, and their other care sites, do not become overloaded, that the staff is protected, and that staff are able to work safely are some key drivers for these tighter visitor restrictions, he said.
The adjustments also respond to the significant increase in spread within the communities. Restricting on-site persons to only those who need to get and support care are intended for the safety of patients and staff, and to lower their likelihood of exposure to any illness, including COVID-19.
Beginning November 25th, the following policies are in effect:
No family member or visitors are allowed to accompany patients in the Hospital, Emergency Room, Surgery/Procedure areas, all Clinic locations, the Cancer Center, Lab, Therapies, and Radiology. Exceptions include:
A parent or guardian is allowed to accompany minor child
A Patient Guardian or advocate is allowed to accompany adult patients that cannot communicate for themselves
A Labor Coach/support person is allowed for Women in labor
A Designated Care Support Person is allowed upon Provider request to ensure safe care
Compassionate exceptions for end-of-life care and other case-by-case situations will be made in consultation with the attending doctor and clinical leaders.
Mill Street Residence Assisted Living continues to be closed to general visitation until the Minnesota Department of Health provides guidance that this restriction has been changed or lifted for senior care settings. Mill Street has established an Essential Caregiver program to help support the psychosocial health support & activities of daily living for tenants. Family members can schedule appointments for window & virtual visits or inquire about the Essential Caregiver program by contacting the Mill Street front desk (218-739-2900).
"We recognize that support from loved ones is crucial to health and to the healing process and we do not take these decisions to restrict visitors lightly," Mattson said. "It's the right thing to do until we can get the spread back to a reasonable level and until these vaccines are readily available. In the meantime, it's all the more reason we each should do our part by taking the advised precautions [masking, avoiding gatherings, staying six feet apart, and washing your hands], even when inconvenient or uncomfortable. Encourage family, friends & colleagues to join you. Going into the ninth month of this pandemic, we are all weary and fatigue is wearing on us all. Be bold and inspire, don't undermine. With Thanksgiving and the holidays, it is critical to act responsibly," Mattson urged.
About the Lake Region Healthcare Enterprise
The Lake Region Healthcare enterprise is comprised of Lake Region Healthcare, an independent community-governed non-profit headquartered in Fergus Falls, the Mill Street Residence Assisted Living Facility in Fergus Falls, and the non-profit critical access hospital, Prairie Ridge Hospital and Health Services headquartered in Elbow Lake. With over 100 medical staff and over 1,000 employees, we are dedicated to serving the healthcare needs of our communities with values of Excellence, Person-Centered, Collaboration, Stewardship, Integrity, Respect and Innovation. Together we bring specialty and sub-specialty services to patients at hospital locations in Fergus Falls and Elbow Lake and at clinics in Ashby, Barnesville, Battle Lake, Evansville, Herman, Hoffman, and Morris, MN. For more information visit: www.lrhc.org, www.prairiehealth.org or www.millstreet.lrhc.org.