LRH and PRHHS Ease Visiting Restrictions
Hospital news
|
Tuesday, June 23, 2020
Public Cooperation with Precautions Paying Off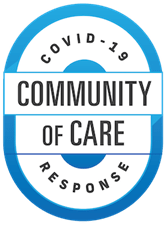 [Fergus Falls, MN and Elbow Lake, MN] Lake Region Healthcare and Prairie Ridge Hospital and Health Services today announced they are updating their visitor policy in response to the coronavirus (COVID-19) pandemic. While all visitors were previously restricted, the updated allowance for limited visitors is one of many steps the organization is making to continue with wise precautions while listening to and meeting patient & family needs.
"We are pleased to be able to report that the precautionary measures we've taken to assure patient safety along with the cooperation of the public in masking, social distancing and following visitor restrictions, have played a critical role in allowing us to flatten the curve and to offer safe health care throughout this time," said Chief Medical Office, Dr. Josh Overgaard. "We continue to increase the number of surgeries and elective procedures and are encouraging regular outpatient visits for wellness exams, specialty appointments like orthopedics & cardiology, routine lab work and vaccinations. It is important to carefully continue certain precautions and safeguards so we can offer a safe place for people seeking medical attention for these and other non-coronavirus issues," he said.
The revised visitor policy is effective June 24th, 2020 and aims to ensure care in a safe and healthy environment while recognizing that being alone for hospital stays and some clinic visits can be difficult. "Support from family and friends is a very real and important part of the healing process," Overgaard said. The revised policy includes:
One visitor at a time will be permitted per adult in our hospitals and clinics. Children are allowed 2 legal guardian/parent visitors. All patients and visitors will be screened according to current guidelines before being allowed to enter our facilities. This includes temperature checks and a screening for signs & symptoms. All patients, visitors and staff must wear a face mask at all times. We encourage you to bring your own mask, or we will provide one to you if needed. No visitors under the age of 16 are allowed at this time.
Mill Street Residence Assisted Living Facility and the Cancer Care & Research Center remain temporarily closed to all visitors until further notice to protect the health of those patients, employees and residents who face the highest risk of illness. Mill Street is able to facilitate window visits for tenants and the Cancer Center clinical staff will review patient requests for consideration of an accompanying visitor in special circumstances. Friends and family of Cancer Center patients & Mill Street tenants are encouraged to communicate with loved ones remotely through phone calls, Facebook or video conferencing as much as possible.
Compassionate exceptions for end of life care, childbirth, and other case-by-case situations will be made in consultation with the clinical teams involved and allowed at their discretion.
"For the most part, people are very understanding of the precautions and realize these protocols are in place for their protection," according to Kent Mattson, CEO. "We really appreciate the cooperation and the public's help. None of us can predict the future and whether a surge will happen and if so, how big or how long it might be. I'm optimistic that by continuing to learn and adapt cautiously, together we can keep the spread of COVID-19 in our communities to a minimum and ensure that every one of our locations is prepared to safely care for you and your loved ones," he added.
About the Lake Region Healthcare Enterprise
The Lake Region Healthcare enterprise is comprised of Lake Region Healthcare, an independent community-governed non-profit headquartered in Fergus Falls, the Mill Street Residence Assisted Living Facility in Fergus Falls, and the non-profit critical access hospital, Prairie Ridge Hospital and Health Services headquartered in Elbow Lake. With over 85 medical staff and over 1,000 employees, we are dedicated to serving the healthcare needs of our communities with values of Excellence, Person-Centered, Collaboration, Stewardship, Integrity, Respect and Innovation. Together we bring specialty and sub-specialty services to patients at hospital locations in Fergus Falls and Elbow Lake and at clinics in Ashby, Barnesville, Battle Lake, Evansville, Herman, Hoffman, and Morris, MN. For more information visit: www.lrhc.org, www.prairiehealth.org or www.millstreet.lrhc.org.
# # #