LRH OB/GYN Offers Extra Support to Pregnant Women During COVID-19
Hospital news
|
Friday, May 15, 2020
"Growing Together" virtual meet-ups helping moms-to-be navigate their pregnancy journey together with others during the pandemic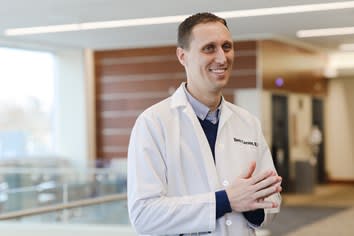 [Fergus Falls, MN] Having a baby is an exciting time, but is also a nervous time especially right now. One local physician has developed a unique approach to help women calm their anxieties as they navigate pregnancy during a pandemic.
Dr. Brett Larson, OB/GYN started offering virtual meet-ups for expecting moms last month via Zoom technology. "I knew my patients were asking a ton of questions and that there was a lot of misinformation and unfounded fears circulating about pregnancy and labor & delivery," he said. "I wanted to offer a safe place for women to gather and get sound advice while also connecting them to others experiencing the same feelings," he said.
And so, "Growing Together" was born and launched in just a few short days. About 30 women attended the first session even though it was only advertised on Facebook. "We had women logging in from across the region, and the participation confirmed our thoughts that this topic is a big concern," Larson said. He said subsequent session topics have included information about managing stress and anxiety during the COVID-19 crisis, helpful tips for taking care of yourself, calming your partner's concerns and preparing for your delivery in these interesting times. Future topics include non-COVID information such as pain control options. A time for Q&A is also included with every session.
The virtual nature of the meetings allows broad participation according to Larson. "For example we have women from many surrounding communities regularly attending, including Wahpeton/Breckenridge where we will soon be offering clinic pre-natal visits. The online venue has also been a good way to connect women from across our communities for mutual support during this time," Larson said. He expects in the future they will transition to meeting in-person and potentially break out into smaller groups based on a woman's location and due date.
In addition to the support groups, LRH is emphasizing the work that has been done to ensure the safety and cleanliness of their pre-natal clinic areas and the birth center's labor and delivery spaces. "We're committed to giving you the safest, most comfortable birth experience possible," said Larson. He said precautions for all patients include visitor restrictions, health screening for everyone entering the facilities (including staff), Personal Protective Equipment for staff (gowns, face shield and face mask, and gloves) along with rigorous hand hygiene. "We have gone to extensive measures throughout our facilities to protect our patients and our staff. We know the birth experience is a very special time and we're committed to protecting the health of moms and babies while giving you them the best birth experience possible in a nurturing and safe environment" Larson said.
LRH has also posted answers to frequently asked questions about their Birth Center precautions on their website at www.lrhc.org/C19Pregnancy.
More COVID-19 Resources
Patients with questions or concerns about an upcoming appointment should call their local clinic. Phone numbers for all LRH and PRHHS locations are available at: https://www.lrhc.org/contact-us/ and https://www.prairiehealth.org/contact-us/.
Questions about COVID-19 can be addressed by the MN Department of Health Hotline: 651-201-3920 or 1-800-657-3903.
Patients who are experiencing symptoms should call their local provider's office to be screened and receive further instruction about home management strategies, or whether they should seek further testing or treatment.
Visit lrhc.org/covid19 for the latest local updates.
About the Lake Region Healthcare Enterprise
The Lake Region Healthcare enterprise is comprised of Lake Region Healthcare, an independent community-governed non-profit headquartered in Fergus Falls, the Mill Street Residence Assisted Living Facility in Fergus Falls, and the non-profit critical access hospital, Prairie Ridge Hospital and Health Services headquartered in Elbow Lake. With over 85 medical staff and over 1,000 employees, we are dedicated to serving the healthcare needs of our communities with values of Excellence, Person-Centered, Collaboration, Stewardship, Integrity, Respect and Innovation. Together we bring specialty and sub-specialty services to patients at hospital locations in Fergus Falls and Elbow Lake and at clinics in Ashby, Barnesville, Battle Lake, Evansville, Herman, Hoffman, and Morris, MN. For more information visit: www.lrhc.org, www.prairiehealth.org or www.millstreet.lrhc.org