What You Need to Know About COVID-19
Last Reviewed: May 14, 2021
Masking
The lifting of the masking recommendation by the CDC and the Governor for vaccinated individuals in certain settings is great news! Remember masks are still required in healthcare settings, including all our locations. Local businesses and workplaces may continue with individual requirements for masking at their discretion as well. Please be respectful of posted signs and guidelines for the places you visit.
Vaccine Information & Resources
All Minnesotans 16 and older are now eligible for the COVID-19 Vaccine. We have created a dedicated page for COVID-19 Vaccine information & resources and you can find it here.
Visitor Policy
As of January 22nd, we have returned to tighter restrictions on who may enter our building. Please see details here.
Testing Updates
Testing events are coordinated by The Minnesota Department of Health (MDH)in partnership with communities to provide safe and free on-site COVID-19 testing in areas with outbreaks, increasing cases, or other barriers to access existing test sites. This link includes locations and dates for current community testing sites.
The map here provides location, type of testing, and hours information on clinics in Minnesota that offer testing.
LRH & PRH Testing Information
We continue to offer COVID-19 testing LRH and PRH locations in Fergus Falls, Elbow Lake and Morris. Please see your provider, or call and ask to speak to a COVID screening nurse to receive instruction and appointments for testing. Our testing locations collect lab specimens that are sent out for processing and generally take 48 to 72 hours to receive.
Saliva Testing
Where you can get MDH Saliva Testing in Minnesota
How to get the MDH Test at Home Kit
Other Helpful Resources Related to Testing
Tips to remember your close contacts
COVID-19 School Related Resources
School Attendance Guide from MDH (defines close contact, quarantine and isolation requirements and when kids should stay home or are cleared to attend school)
COVID-19 Decision Tree for People in Schools, Youth and Child Care Programs from MN Dept. of Health
What to Do While Waiting for COVID-19 Test Result & 10 Things You Can Do to Manage Your Symptoms at Home from MN Dept. of Health
Recent Announcements & Resources
What to Expect When You Come in For Care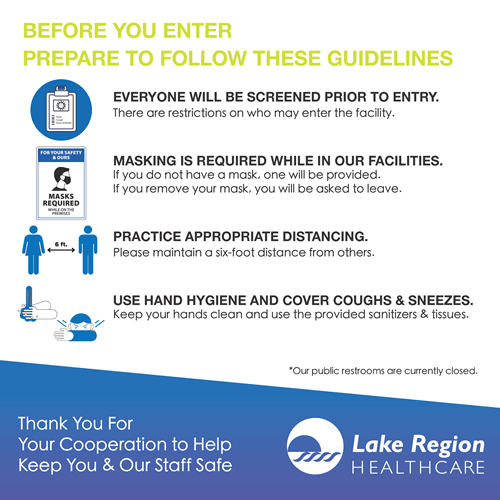 What You Need to Know about Delivering Your Baby During COVID-19
Learn more about what to expect and how we're prepared to help ease your mind during this special time.
Elective surgeries and procedures have resumed at all of our locations.
Read more about how we are prepared to safely perform surgeries during the COVID outbreak. If you're scheduled for a surgery or procedure, read more about what to expect here.
What Should You Do if You Think You Have COVID-19?
Because most cases of coronavirus are able to manage and recover from the illness by staying home, resting and drinking plenty of fluids, as of today we are offering the following guidance:
Patients who think they may have COVID-19 are asked to call us before coming to a healthcare facility.

If you experience the symptoms of COVID-19 we ask you to call first for a phone consult for us to gather specific patient health history. After screening, you will be given guidance on whether to manage at home following the "Home Management Strategies" below or if appropriate, how to access our drive-up testing process. If you wish to speak with someone about this screening, please refer to the Important Phone Numbers below.
If you have been tested for COVID-19 and are awaiting your test results, or you have received a positive test results, please follow these guidelines for self-isolation and learn more about how & when to quarantine here.
Home Management Strategies:
Stay home except to receive medical care.
Separate yourself from other people and animals in your home (preferably own bedroom and bathroom).
Call ahead before visiting your healthcare provider.
Wear a face mask if around others.
Cover your coughs and sneezes.
Wash your hands often with soap and water for 20 seconds.
Avoid sharing personal household items.
Monitor your symptoms – if illness is worsening (ex: difficulty breathing), call your healthcare provider.
Remain on home isolation until your healthcare provider and state/local health department confirms it is safe to discontinue.
LRH Medical Team Urges Public Not to Delay Needed Medical Care
Here are just some of the ways we have implemented new protocols to ensure we can safely care for you:
Increased lab testing capabilities, including drive-up testing
Real-time tracking of personal protective equipment (PPE) and local partnerships to meet PPE shortages such as surgical gowns, face shields and hand sanitizer
Virtual appointments to offer visits with nearly all care-providers on a tablet, phone or computer
A respiratory assessment clinic in Fergus Falls, Morris and Elbow Lake, as well as creating separation in emergency departments and other units to protect patients
Restrictions on visitors allowed to enter our facilities
Screening of all staff, patients and visitors before they enter any facility, including temperature checks
Social distancing practices in all lobbies, including Plexiglas shields between check in staff and patients
Everyone wears a mask:

patient-facing staff wears a mask and face shield

non patient-facing staff and all patients are provided with cloth masks

Screening of all employees including temperature checks before each work shift
Enhancement of already rigorous cleaning practices
Foundation COVID-19 Relief & Response Funds
Virtual Appointments Available
Schedule or Check-In For a Virtual Visit
In The News
For recent announcements related to COVID-19 at our facility, please visit our newsroom.
FAQ's
Learn more about how the virus spreads here.
How to help prevent the spread of respiratory viruses such as Coronavirus
Avoid close contact with people who are sick.
Avoid touching your eyes, nose, and mouth.
Stay home when you are sick.
Cover your cough or sneeze with a tissue, then throw the tissue in the trash.
Clean and disinfect frequently touched objects and surfaces using a regular household cleaning spray or wipe.
Follow the CDC's recommendations for using a face mask, along with any state or local masking requirements.

CDC recommends wearing cloth face coverings in public settings where other social distancing measures are difficult to maintain (e.g., grocery stores and pharmacies), especially in areas of significant community-based transmission. CDC also advises the use of simple cloth face coverings to slow the spread of the virus and help people who may have the virus and do not know it from transmitting it to others. Cloth face coverings fashioned from household items or made at home from common materials at low cost can be used as an additional, voluntary public health measure. Cloth face coverings should not be placed on young children under age 2, anyone who has trouble breathing, or is unconscious, incapacitated or otherwise unable to remove the cloth face covering without assistance. The cloth face coverings recommended are not surgical masks or N-95 respirators. Those are critical supplies that must continue to be reserved for healthcare workers and other medical first responders, as recommended by current CDC guidance.

Wash your hands often with soap and water for at least 20 seconds, especially after going to the bathroom; before eating; and after blowing your nose, coughing, or sneezing.

If soap and water are not readily available, use an alcohol-based hand sanitizer with at least 60% alcohol. Always wash hands with soap and water if hands are visibly dirty.
Minnesota's Statewide Masking Mandate
As of July 25, 2020, per the Governor's Executive Order 20-81, people in Minnesota are required to wear a face covering in all public indoor spaces and indoor businesses, unless you are alone. Additionally, workers are required to wear a face covering when working outdoors in situations where social distancing cannot be maintained. Read the FAQ here.
If you have any questions or concerns about COVID-19, please call your health care provider or the Minnesota Department of Health COVID-19 Hotline at 651-201-3920 or 1-800-657-3903.
It's also critical that everyone does their part to follow these strategies to slow the spread in communities.
Important Phone Numbers:
Lake Region Healthcare Fergus Falls Clinic: 218-739-2221
Lake Region Healthcare Fergus Falls Hospital (24 hours): 218-736-8000
Prairie Ridge Hospital & Health Service Elbow Lake Clinic: 218-685-7300
Prairie Ridge Hospital & Health Services Morris Clinic: 320-589-4008
Minnesota Department of Health COVID-19 Hotline: 651-201-3920 or 1-800-657-3903
Otter Tail County Public Health Hotline: 218-998-8320
RESOURCES