Audiology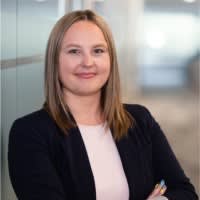 With hearing loss, it's not just the words you miss—it's moments. Lake Region Healthcare's certified audiologist can help you get those moments back.
We're looking forward to welcoming Dr. Mikayla Gustafson, AuD, CCC-A to our Fergus Falls clinic in the spring of 2023. Dr. Gustafson received her Doctorate of Audiology at the University of Wisconsin-Madison, Madison, WI. She also holds a Bachelor of Science in Speech, Language and Hearing Sciences from Minnesota State University in Moorhead, MN. She has served most recently as a Clinical Audiologist at Starkey Hearing Technologies in Eden Prairie, MN and prior to that at Oakdale Ear, Nose and Throat in Robbinsdale, MN.
She is a member of the American Speech-Language-Hearing Association, and both the Minnesota and American Academy of Audiology.
Dr. Gustafson will offer appointments at the Fergus Falls Main Clinic including comprehensive hearing evaluations, as well as selection, fitting, and verification of hearing amplification devices.