Podiatry
Our team of podiatrists offer a variety of services to keep your feet and ankles healthy and comprehensive treatment of forefoot, rear foot, and ankle problems as well as reconstructive surgery. We work closely in conjunction with the LRH Sports Medicine team to ensure athletes have access to foot specific preventions and treatments to excel in their sports endeavors. We work with you to help prevent and improve conditions including:
Plantar fasciitis.
Bunions.
Hammer toe.
Painful ingrown toenails.
Ankle pain.
Painful flat feet.
Tendon ruptures.
Foot and ankle fractures.
Diabetic foot care.
Sports injuries.
Lower extremity wound care.
Total ankle replacement.
Also Offering Nail Care Services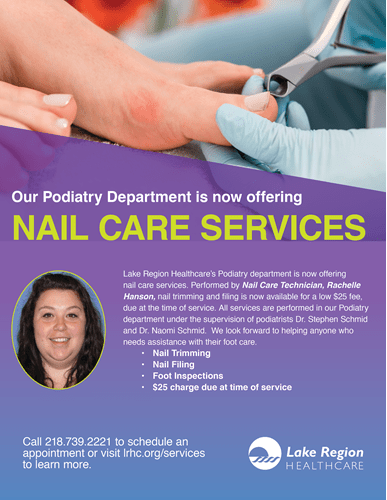 General and diabetic nail care is also offered in our Elbow Lake location.